TURN YOUR BUSINESS INTO AN OTT IS SIMPLE AND QUICK
–
Toolbox Go is the perfect solution to carry all that TV can traditionally offer into the world of OTT -Live and VOD- fast and securely, for any device, anywhere.
Toolbox Go offers a personalized and high-quality viewing experience that withstands high traffic events, reduces latency and ensures that content will be secure.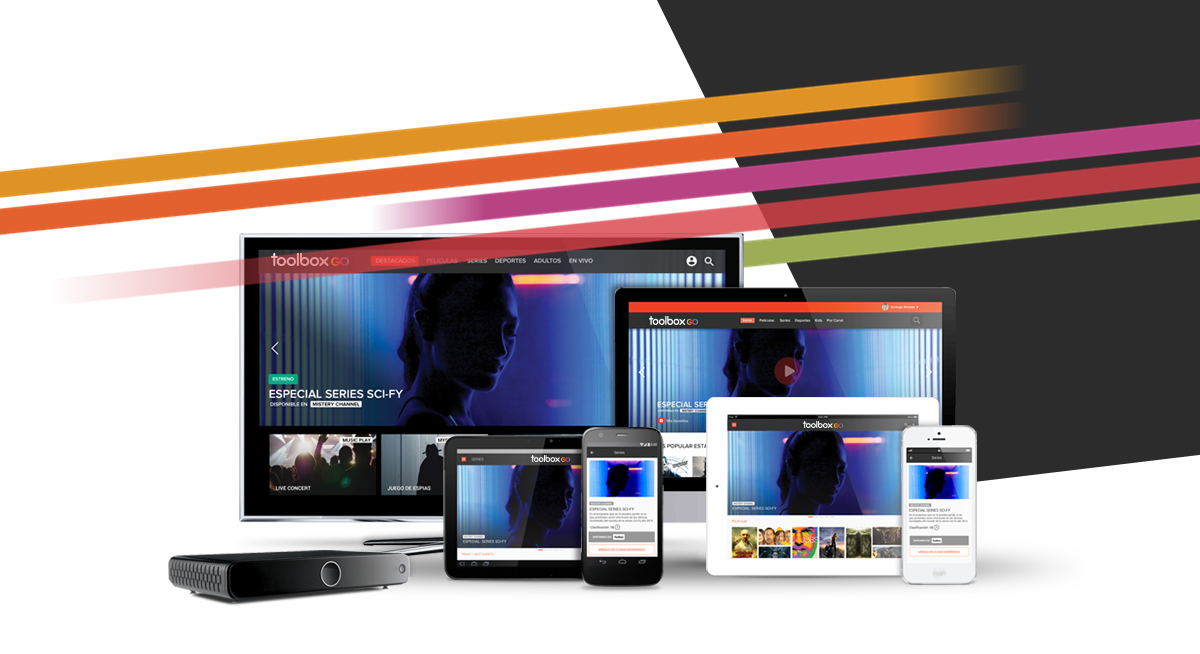 TOOLBOX GO is a platform developed with technology from the top Toolbox solutions, which have proven well performance on the market.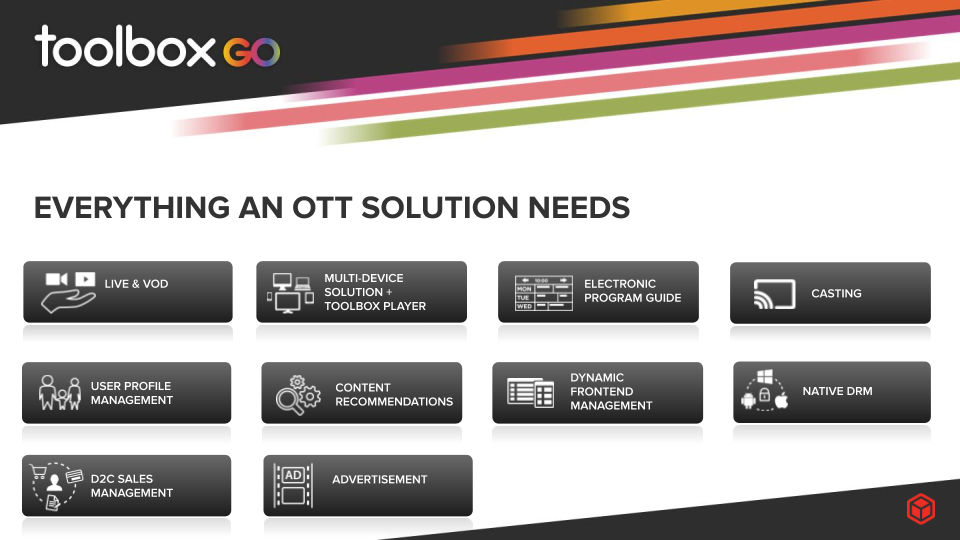 LIVE & VOD CONTENT
Manage and set live and VOD content for both aggregation and distribution. Ensure the highest loading speed and the lowest latency on the market.
ELECTRONIC PROGRAM GUIDE
Categories, features of played content, programming grid by date and time.
Optional: Catchup TV, reverse EPG, NDVR.
MULTI-DEVICE SOLUTION + TOOLBOX PLAYER
Continued content playback across multiple devices from a single login that remembers account information and playback instances (Single Sign On).
Includes Toolbox Player with multi-language feature (when supported by content).
Optional: Bookmarking, rewind and live pause.
CASTING
Go from a small to a big screen in one step.
A tool for sharing broadcasting among devices.
PROFILES
Profile and account management for a customized experience.
CONTENT RECOMMENDATIONS
An algorithm for increased engagement, with categories "Discover content", "Recommended for you", and "Because you watched…"
DYNAMIC FRONTEND MANAGEMENT
All news and settings updated in real time for the whole app kit.
Android App, Android TV, iOS App, Apple TV, Desktop, Set-top-boxes, and others.
NATIVE DRM
License Management – PlayReady/Widevine/Fairplay license registration
License Server – License server configuration to encrypt (uploads) and decrypt (playback).
THE FASTEST WAY TO LAUNCH YOUR OTT
TOOLBOX GO is very easily implemented, becoming your strategic partner to take your business one step further.
Free consultation with a sales consultant TOOLBOX GO Solution
Free consultation with a sales consultant Toolbox GO