Cloud Delivery is a platform tu simplify the process of content distribution, with different specifications, to third-party platforms.
It provides a simple management tool through a single point of video origin that allows the Content Providers to deliver their assets offline. Our solution allows us to create custom encoding, packaging, and metadata specs for each delivery target.
Cloud Delivery has a set of "ready to use" delivery targets based on our knowledge of the most frequent requirements of Latin American MSOs ("third-party affiliates").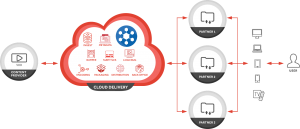 WE ARE IN THE ERA OF CONTENT
WHERE IT NEEDS TO BE CONSUMED IN MANY DIFFERENT WAYS
Wouldn´t be great to be able to deliver content to your partner in the different formats and destinations each one needs when you need it?
INGESTION
One-way sync that provides the raw material (catalog, master files, video and audio assets, metadata) to process and deliver the final contents to the partners.
Toolbox can get the assets in many formats and from any origin and/or combination of origins, depending on the provider setup.
METADATA
One of the assets that Toolbox gets form the ingestion process is the metadata, that refers to content enrichment such as rating, title, genre, description, casting, etc.
Toolbox gets it in any formats the provider works with, such as ADI or custom any formats.
Then it will be processed it in order to be accessible to the partners in the needed formats.
SUBTITLES
Subtitles as an input can be get as electronic or video format. Then as an output Toolbox regenerates them as electronic (i.e. VTT) or burned into the video.
Toolbox process it via rendering and OCR technologies, translating them into other formats according to needs.
Based on the partner's needs, Toolbox can generate many outputs as needed based on the amount of subtitles.
LOGO BUG
Content and Syndication Providers need to identify every piece of content accordingly to their brands or networks.
A logo bug can be applied as a watermark during the encoding process.
Depending on the provider's needs, Toolbox can generate many outputs as needed based on the amount of logo bugs needed.
BUMPERS
Several video bumpers can be positioned in the same video asset as either a replacement for a reserved video fragment or as an insertion in a particular place, synchronizing the subtitles in the process.
Defining the desired cue points they can be placed as a pre-roll, mid-rolls, or a post-roll.
Based on the needs, Toolbox can generate many outputs based on the amount of bumpers, pre-rolls, mid-rolls or post-roll.
ENCODING
The different codecs, container formats, sizes, and the corresponding bit rates are applied to the audio and video assets. All defined by pre-set instructions.
Each partner can establish their output format of choice:
PACKAGING
In order to deliver the processed content and metadata, Toolbox builds a container with everything within.
In this process you can specify a specific file naming policy for each partner as well.
As each partner needs, this is for being delivered on a defined destination or taken by the partner platform.
DISTRIBUTION
Based on the partner needs the output can be taken or placed where, when, and how it is needed. 
This provisioning process includes error handling maneuvers. Toolbox can also provide storage if the partner does not have on its own.
BACK OFFICE
Most of the tasks are defined in advance. But custom execution and configuring can be set using our Back Office UI.
It provides features to: 
Follow the

status

of the process.

When any error or inconsistency during execution,

reattempts

can be triggered manually

Historical

job delivery statuses
BUILD THE SOLUTION YOU NEED
You don't need the full package? 
No problem. Just pick the Cloud Delivery feature/s you need. Our business model supports it.
We are the quality solution in the times that you and your partner need.
A platform for content delivery distribution.
More info about CLOUD DELIVERY
Find out more about Unity with one of our sales executive