WHAT IS SPORTS HUB?
SPORTS HUB is a platform dedicated to the management, visualization and distribution of live and on-demand sports content. It stands out for the management of high concurrency, for the reduction of latency in OTT platforms, the security of content and its monetization, among others. 
The platform has extensive experience in broadcasting football World Cups, Olympic Games, Cups and
International leagues in Latin America.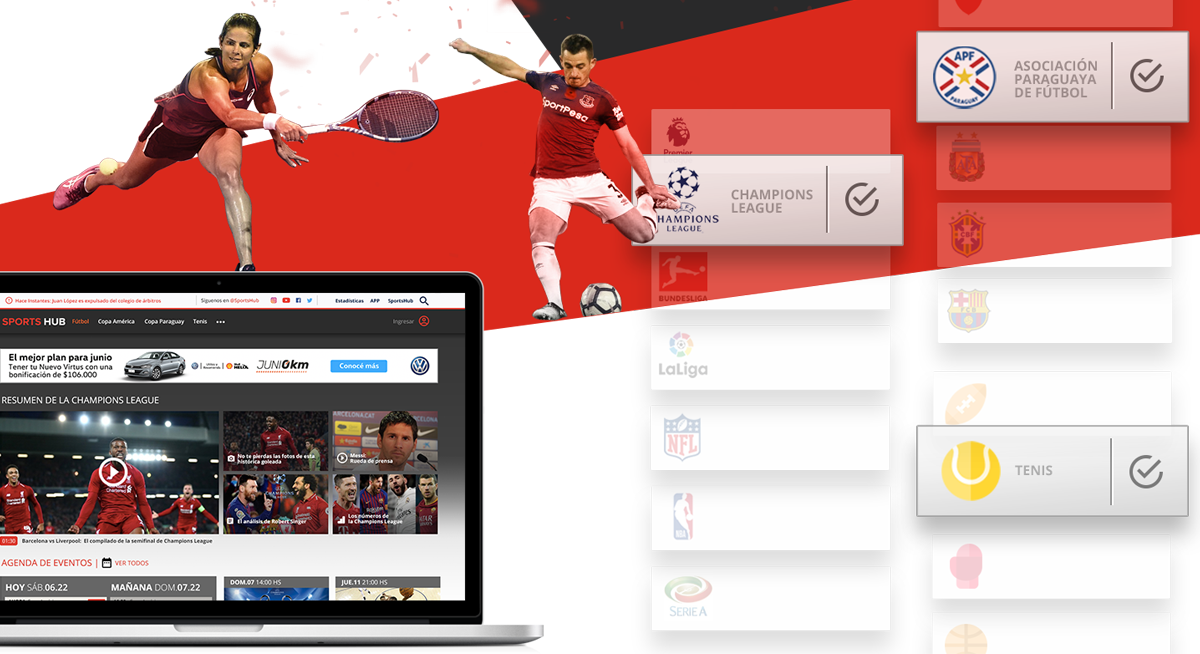 SPORTS HUB CAN PROVIDE SERVICE TO MORE THAN 500,000 CONCURRENT USERS
It is integrated with the Toolbox Cloud Pass solution, so that users can validate and access live content.
Ensures seamless transmission even when high concurrent user loads are estimated.
SPORTS HUB ALLOWS YOU TO BE THE FIRST TO CELEBRATE A TOUCHDOWN!
Our Live Streaming solution ensures the highest loading speed and lowest latency on the market.
SPORTS HUB includes all the necessary components for the best UX
Player tag with categorized information, content playback features, timeline navigation, EPG grid, among others.
Integrated with editorial and analytical content from before games up to the very end.
SPORTS HUB unifies the information related to the event
SPORTS HUB by Toolbox is integrated with analytics and metadata platforms for the management of graphs, statistics, leaderboard, fixture and all information related to sporting events in one place.
SPORTS HUB broadcasts from all angles
SPORTS HUB is integrated into the Toolbox Player Multi-Camera solution, giving the viewer the possibility to feel inside the stadium.
Enables panoramic view, views from the field, follow the Coach or a specific player, and even replay Plays, Runs and Field goals with Player-Tag
SPORTS HUB provides content security
Integrated to the solution Toolbox Multi-DRM:
the management and publishing system of encrypted content for your security. 
SPORTS HUB connects reliably with the contents, as well as with integrations from portals or payment methods.  
Free consultation with a sales officer of Sports Hub
Free consultation with a sales officer of Sports Hub