THE LEADING SOLUTION FOR user AUTHENTICATION & AUTHORIZATION
–
Cloud Pass® is the main access to the Toolbox Federated Network, where any player of the OTT industry can easily connect to more than 230 MSOs and over more than 70 Content Providers worldwide.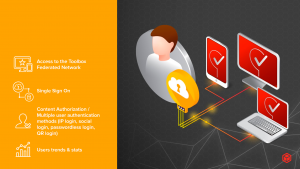 –
Users Authentication & Authorization
IP Login

Social Login

Passwordless Login

QR Login
–
Single Sign On
To navigate passwordless among the Toolbox Federated Network
–
Access to the Toolbox Federated Network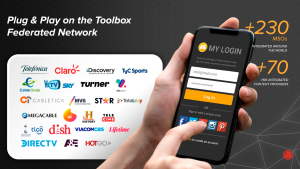 –
User trends & stats
Add INSIGHTS to your Cloud Pass® solution
Use INGISHTS to know everything about your users. Who they are, what they enjoy and also what they would really love to watch.
Download unprocessed info to make your own graphics & stats.
–
Controlled content everywhere
The most advanced content protection for multiple devices integrated to the business rules set for each user.
DRM
Concurrency Control
GEO Blocking
VPN Blocking
24/7 support
–
Cloud Pass®
Traffic support at high-concurrency events guaranteeing the service-level agreement (SLA).

24/7 support

All data is stored to generate reports
Security. Data generation and protection. All generated data is securely documented, encrypted and stored.

Scalabiltiy
More info about Cloud Pass
More info about Cloud Pass D2C