CONNECTING THE OTT BUSINESS
Cloud Unity is an intelligent platform for content integration with OTT businesses.
It offers direct and unlimited access to the most important network of content providers and cable operators, as well as cutting-edge Toolbox technologies for the creation of new businesses.

CLOUD UNITY CONNECTS YOU WITH THE CORE BUSINESS
The platform streamlines integrations, serving as a link in the distribution and content aggregation process.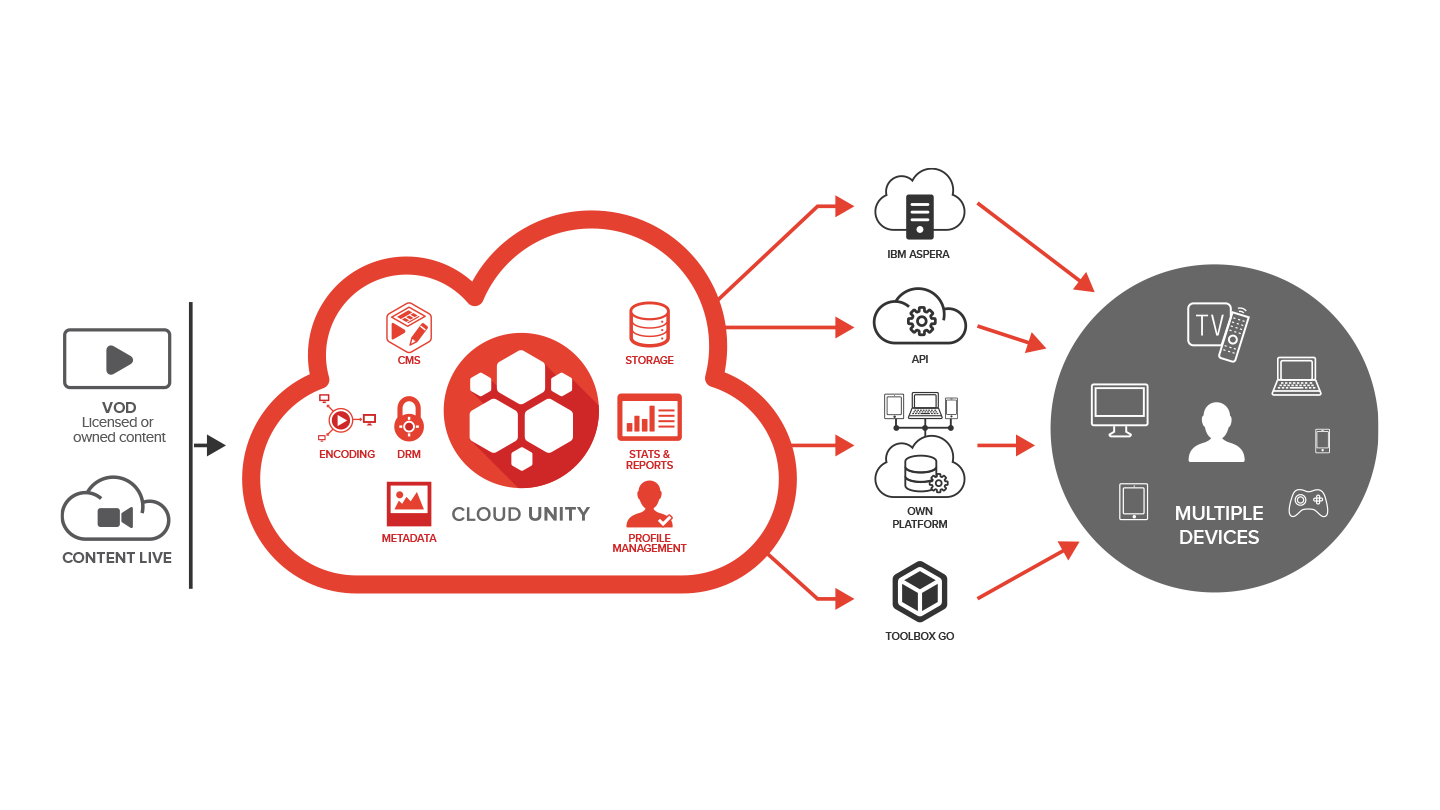 CONTENT DISTRIBUTION
A ONE-STOP SHOP TO OPTIMIZE CONTENT DELIVERY
It even operates with complementary modules -own or from the client- for Ingest, transcode, Digital Rights Management, quality assurance, metadata normalization. Everything you need for non-stop distribution.
Deliver a single file from any source and any format. Cloud Unity covers all the processes necessary to prepare content in the required formats. It ensures your content's distribution and correct reproduction on any authorized platform.
CONTENT AGGREGATION
A DATABASE FILLED WITH ALL THE CONTENT READY TO BE AGGREGATED AND VIEWED
Manage and deliver Direct-to-consumer, TV Everywhere, OTT Multiscreen, Broadcast TV, IPTV, Video On Demand or any format your business requires.
A single integration to add all the content to your offer.
Cloud Unity manages millions of content already processed to deliver seamlessly in any format.
SECURITIZATION
DEPENDABLE BUSINESS
High-level content security from a single DRM process with Geo-Blocking.
Pay TV subscribers or OTT subscribers can access protected content from any device and platform using the operator's existing credentials.
INSIGHTS AND TRENDS
EXCELLENT DECISION MAKING
Content usage analytics to create effective business strategies. 
Cloud Unity allows both operators and content providers access to content performance and user interaction metrics.
Reports

Data storage

Metrics and statistics
MONETIZATION
NEW SOURCES OF INCOME
Cloud Unity integrates monetization APIs according to the rules of each business. It allows the managing of potential sources of income through traditional methods and new business models such as AVOD, SVOD and TVOD
PROVEN PERFORMANCE AND EXPERIENCE
Reliable technology thanks to its extensive experience supporting worldwide events. Speed and picture quality, even during high-load live events.
BUSINESS FLEXIBILITY
Dynamic sales model
Tailored business proposals
Consulting to integrate content on your platforms
Speed to market

More info about CLOUD DELIVERY
Find out more about Unity with one of our sales executive