CENTRALIZED INTEGRATIONS TO THIRD-PARTY AFFILIATES FOR NEW SUBCRIBERS ACQUISITION
–
Toolbox Affiliate manages the provisioning, lifecycle and information of the end users who acquire a subscription package through a third party affiliate, allowing the content owner to have reliable and real time information of every acquisition and account.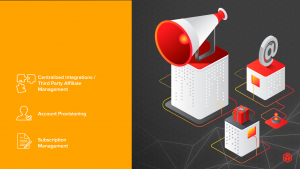 –
Centralized Integrations
Grow your business. Integrate multiple affiliated companies for the subscriptions selling to your OTT platform, in a unified and very simple way.
–
Account Provisioning
Know the accounts status and users information deriving from affiliates, and manage their permissions.
Account Status. Active and inactive accounts.
Permissions management in accordance with business model agreed with the affiliate
User & Account information
Upgrade / Downgrade
–
Subscription Management
Design and manage subscription packs and business models with special rules for each of the affiliates.
Subscription packs management.
Business rules in accordance to the business model agreed with each affiliate
Subscription management by device
–
Toolbox Affiliate
Traffic support at high-concurrency events guaranteeing the service-level agreement (SLA).

24/7 support

All data is stored to generate reports
Security. Data generation and protection. All generated data is securely documented, encrypted and stored.

Scalabiltiy
More info about TOOLBOX AFFILIATE
More info about TOOLBOX AFFILIATE