When creating new developments, it is always a good idea to look back and understand how we reached this point. That is why I thought about sharing the milestones in the history of TV, and how it evolved to what we now call OTT.
At the beginning, there was the analog television, with open signals which were transmitted "through the air", within the reach of anyone who had the right receiver. The first initiatives towards cable television (on a very small scale, through closed circuit systems) were undertaken around 1960. The first color television broadcasts began around the early '80s. In the '90s, satellite TV started to become popular. Meanwhile, cable TV became such a massive option that, in 1993, more than half the households were subscribed to this service. Each of these technologies posed challenges and also the need to replicate or adapt business models on the part of service providers.
However, what interests us about the evolutionary history of television took place around the turn of the millennium, with the first digital television tests. This step from analog to digital may not have represented a great change for viewers, but it did imply a key change from the technical aspect. Beyond the optimization in the spectrum usage, the launch of digital TV reduced costs associated with service delivery. Digital hardware is cheaper than the analog one, and digital systems make content encoding much simpler for further adaptations to various formats. In addition, not only did this process make it possible to transform content visually, but it also allowed to store the content in servers and cache it.
This digitization is what made VoD (video on demand) possible. This offered subscribers the chance to buy content packages (such as football packages or premium channels of movies and shows) and allowed video streaming in different formats and modalities, what service providers call OTT. This new "over the top" concept refers to the content offered through the Internet, which can be consumed instantly, at any time, from a very wide range of devices or fixed and mobile "screens".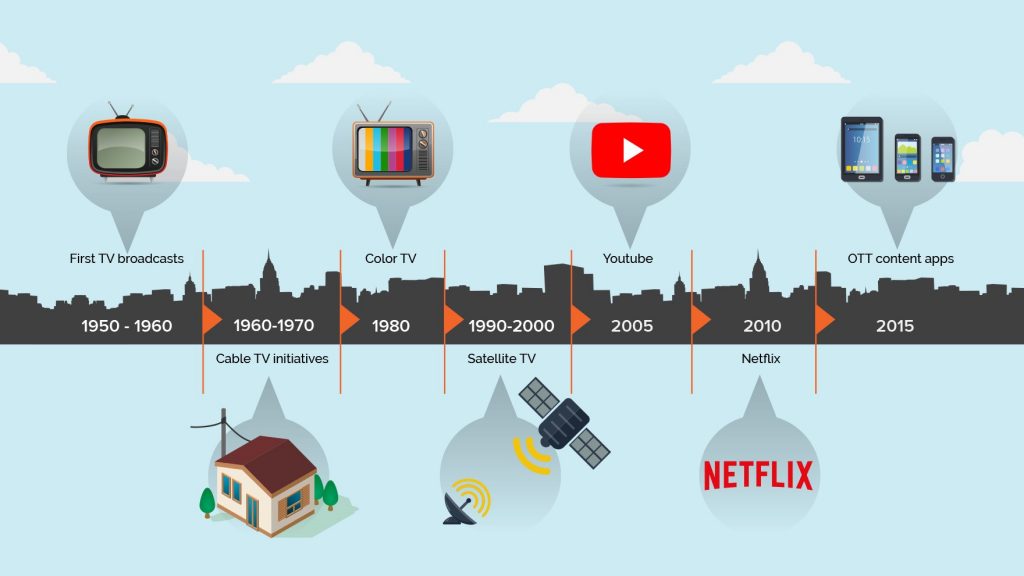 Business challenges from the service perspective
Despite digitization, the way in which the content was delivered had been aimed at the business idea of cable operators and content providers. The user had a menu of unified content which, once selected, was sent to the various channels with a sequential consumption (for example, to watch a certain episode of a show, the user frequently had to tune in on a specific day and at a specific time).
Then, we would get the option of having the content available for longer periods of time (for example, the possibility of watching a football game after the day when it was originally broadcasted, or watching a film at a later schedule, after the premiere). This gave the user a certain timeframe to consume that content. Despite all this, consumers kept experiencing great limitations. To watch a particular content, they had to access a specific platform or channel and, implicitly or not, log as subscribers of the service. Due to this need to access several services, the user experience would be affected.
Fast forward to today, and the same consumer expects to smoothly watch content on multiple screens, which is a demand that can leave an operator out of business. At Toolbox, we follow the behavior of users closely and we set out to solve these traditional VoD and OTT issues with technology dedicated to improving the entire experience.
On the one hand, we understood that content must be at the user's disposal, and not the other way around. This should happen from the beginning, that is, when you log in. That is why we focused on improving the recognition experience on several devices and created Cloud Pass, a platform that provides authentication and authorization, allowing the subscribers to generate a single login (SSO) and gain access to a myriad of platforms.
But on the other hand, we also consider the role of technology: we are here to make things easier and automate mechanisms that allow for a reduction in costs and times. Bearing all this in mind, we developed a content manager designed for each platform and subscriber. This solution is called Unity because it unifies content acquisition and distribution (including live elements and VOD), focusing on the users so that their experience is not lost between the platforms. Many years ago, we never would have dreamed that, after choosing a film to watch, we would get recommendations for another movie we might also like. And the idea of watching a movie on the WEB and then using an app on another device to automatically continue from the same point was beyond our imagination.
The great phrase "Watch it whenever, however and wherever you want" becomes real when we focus on the subscribers. The evolution of television helped us get here, but we still have a long way to go.
Now I can say that the right question we must always ask ourselves is: What else do you NOT imagine?
Author: Laura Galván, Product Specialist